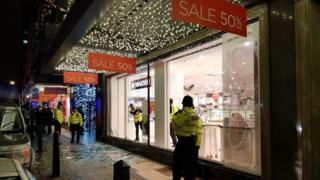 A woman was injured when customers fled from London's Oxford Street after inaccurate reports of kills being fired.
The Metropolitan Police were called to the situation at 16:50 GMT and cordoned off an country around a smashed glass space at House of Fraser.
The police said that a woman received "non-life threatening injuries" as a result of a fall.
They included there are still "nothing to indicate" that shots had been fired or a crime committed.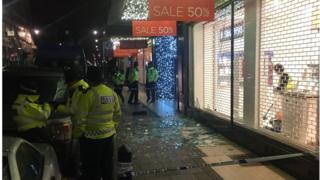 The BBC's James Waterhouse, who is at the panorama, enunciated two onlookers told him they identified three women run into the window, knocking flaunts over as they tried to leave.
He articulated a police officer told him "it was an accident" and said that "there was a panic and someone tried to get out on the inside".