The only unbeaten heavyweight champions first professional fight under his own name was 70 years ago. Looking back at his career is a palate-cleanser after Furys farce in Manchester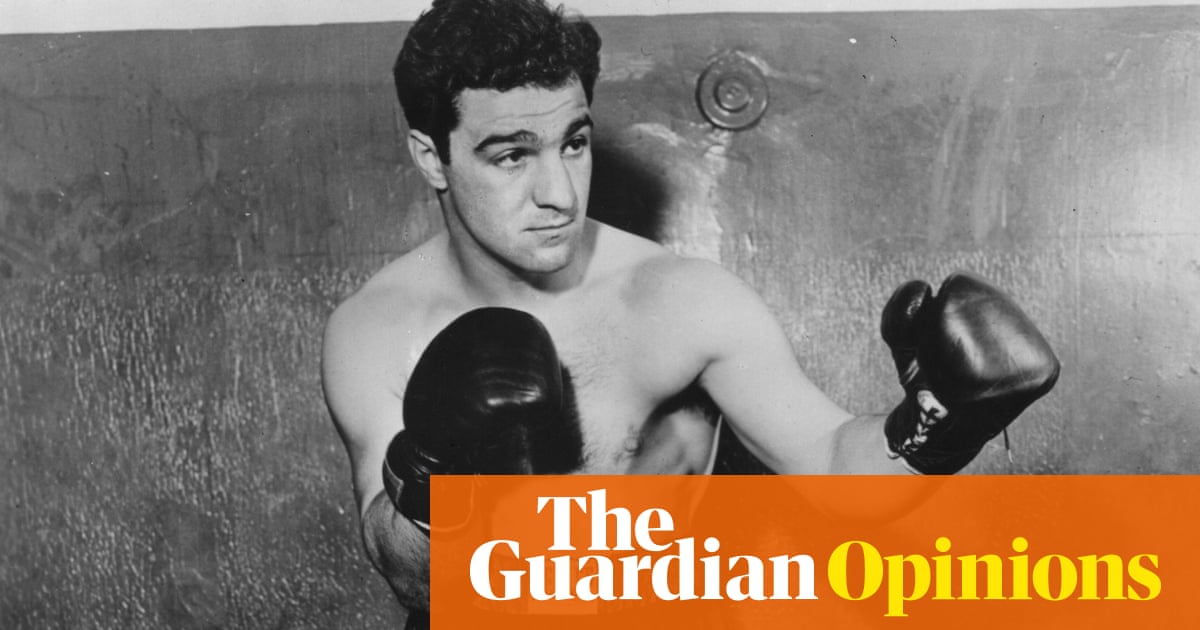 At the end of a bout that featured more proper fighting among the occupants of the £100 ringside seats than inside the ropes in Manchester on Saturday night, Tyson Fury proclaimed he will regain the world heavyweight championship by the end of the year. What Rocky Marciano would have made of that boast can only be imagined.
Seventy years ago next month the heavyweight champion who would finish his career with a record of 49 wins and no defeats fought for the first time as a professional under his own name. A local paper mangled it in their report, however, and Rocco "Rocky" Marchegiano was given the name by which the world would come to know him.
He won that fight – against Henry Bilzarian, the US Army's light-heavyweight champion – with a stoppage after 92 seconds. A pattern had been set. Before 1948 was out he would meet 10 further opponents, none of whom would take him beyond the third round and seven of whom would fall in the first.
Marciano received $40 for the Bilzarian fight. Ten years later he would turn down $2m to make a comeback. In between he accumulated a decent fortune for himself – which, not trusting banks, he stashed away in shopping bags full of $100 bills under floorboards, false ceilings and other places that remained a secret to his family after his death.
He made a much bigger fortune for the Mob. His manager, Al Weill, was connected to the International Boxing Club of New York, which controlled the sport throughout the 1950s. The IBC was eventually revealed to have links with such figures as Frankie Carbo and Blinky Palermo, mobsters with interests, overt or undeclared, in many fighters.
"You're another Italian boy, aren't you?" Carbo asked Marciano when they were introduced outside Stillman's gym in New York City – "the University of Eighth Avenue", as the writer AJ Liebling called it. "Kid, make me proud of you."
The Mob loved Marciano and it was, for the most part, a comfortable and mutually profitable arrangement. The fighter eventually objected to Weill augmenting his 50% of his earnings by skimming the take and surreptitiously selling ringside seats for his own profit, but in retirement his business ventures included investments in casinos and vending machines with underworld figures of varying degrees of eminence.
All this and much more is to be found in the pages of Unbeaten, a new biography of Marciano by the American journalist Mike Stanton, a Pulitzer Prize-winning investigative reporter. It's the tale of how a stocky Italian-American boy from Brockton, Massachusetts fought his way to dethroning Jersey Joe Walcott in 1952 and becoming the hero whose portrait, complete with his fight-by-fight record, has hung behind the espresso machine in Soho's Bar Italia for as long as anyone can remember.
Standing only 5ft 10in and weighing around 185lb, Marciano was a crude stylist whose ferocious right‑hand punches were thrown from the solid platform provided by his powerful legs. Genial and gregarious out of the ring, with his gloves on he turned into a merciless brawler whose appetite for destruction drew star‑studded audiences including Elizabeth Taylor, Frank Sinatra, J Edgar Hoover and General Douglas MacArthur.
The first fight against Walcott, in September 1952, was a 13-round classic in which Marciano was sent to the canvas for the first time in his career. The first of his two meetings with Ezzard Charles in 1954 became another epic, going the full 15 rounds in Yankee Stadium. His monastic preparation in the Catskills had included turning down Jayne Mansfield when the actress paid an unscheduled visit to his cabin.
There is a childhood memory from May 1955 of being roused at 4am to join my father in listening to the BBC Light Programme's live radio broadcast from San Francisco's Kezar Stadium of Marciano's penultimate fight, against Don Cockell, the British and European champion. The challenger was mocked by American reporters for resembling a tub of the ice cream on which he had allegedly been gorging since arriving in California, but surviving film shows the former blacksmith from Battersea fended off a vicious barrage – including headbutts and blows below the belt and after the bell – with sheer dumb courage until the inevitable ninth-round stoppage.
As the author of Unbeaten relates, Marciano had a bit of history with Britain. In the summer of 1944, while stationed outside Bristol as a private with the 348th Engineer Combat Battalion of the US Army, preparing for the amphibious assaults of D-Day, he and a friend were arrested for assaulting and robbing a pair of Englishmen with whom they had been drinking. A court martial sentenced him to hard labour, served back home until he was discharged at the end of 1946.
His final fight, against the great Archie Moore in Yankee Stadium on 21 September 1955, was another epic, a savagely fluctuating affair that ended in a ninth‑round knockout. And that was it. The following April, after a long South American holiday and the start of an investigation into the IBC, he called a press conference – dignified and free of bullshit – to announce his retirement. A dozen years later, on the night before his 46th birthday, he was killed in a light-aircraft crash.
There had been a few easy fights on the way up but nothing that sank to the depths plumbed by Fury and Sefer Seferi on Saturday. No subsequent heavyweight champion has matched Marciano's record of going through a career without defeat. In the verdict of history, as well as that of generations of regulars at Bar Italia, his title was as undisputed as undisputed gets.
Read more: www.theguardian.com