Some tired jokes aside, a solid week which saw Alec Baldwins Trump mess up at a press conference and a standout Black Jeopardy skit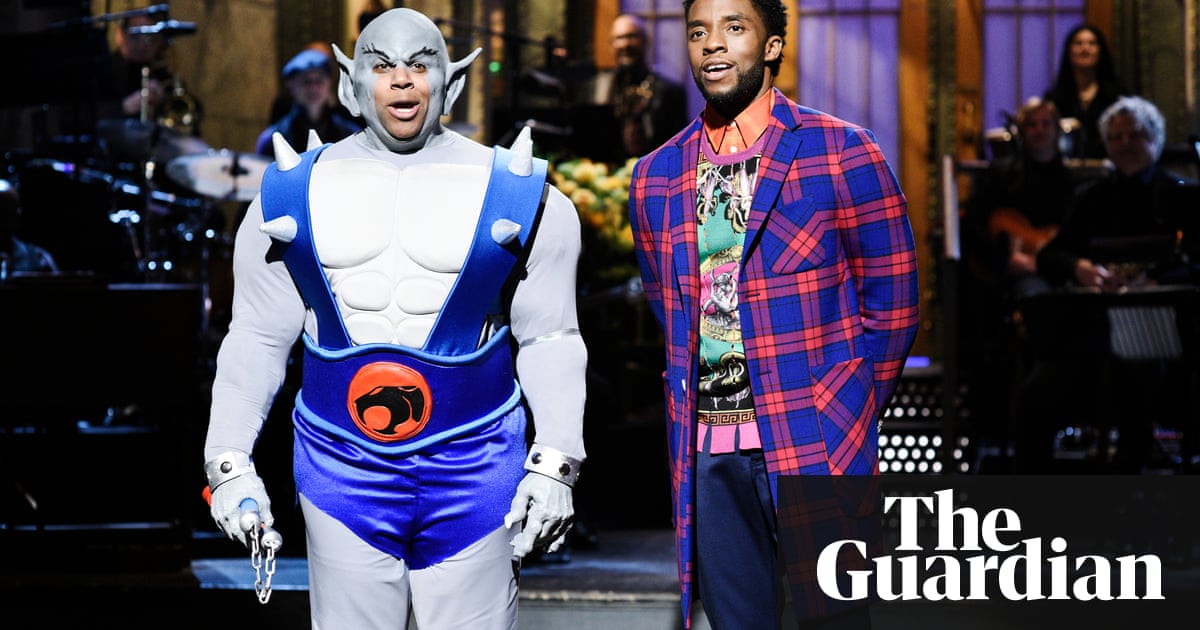 Donald Trump (Alec Baldwin) is doing a press conference with leaders of the Baltic states – "these freakshows here" – but first he reads a "prepared statement to prove that I can read".
"Time to freestyle," he says, congratulating Putin even though, "no one's been tougher on Russia than me, including Hitler".
He throws it to the first Baltic leader, played by Kate McKinnon. "Don't say anything about her hair," he thinks to himself.
"Thank you so much for the great speech, and by the way your hair is insane," he says.
Then, questions from the press corps.
"Why are you sending the national guard to the Mexican border?" asks a Baltic journalist, played by Beck Bennett.
"Do you want me to come to the shoe that you live in and slap the potato out of your mouth?" Trump asks.
Live from New York, it's Saturday night. Chadwick Boseman of Black Panther is the host, but he says, "there's only bad ideas left", because SNL has already done so many sketches about Black Panther, such as "a sketch where Black Panther has sex with Leslie Jones – that was a Leslie Jones idea".
"Somehow, Black Panther has become a historical figure," he continues. "I hope that maybe we've inspired a new generation of black actors and film-makers." Kenan Thompson wanders on camera dressed as Panthro from the Thundercats. "I know you're doing a sequel, hook a brother up!"
"Is this another one of the bad ideas?" says Boseman.
"It was Kenan Thompson's idea," says Thompson.
Boseman cuts a little rug: Cardi B is here!
Advertisement: the new Nike Pro-Chiller leggings, "for what most women do in leggings", which is sitting on the couch. "Women can do anything I want, and I want to do … nothing," says Kate McKinnon. "My FitBit says I'm dead."
Black Jeopardy: the categories include "Grown Ass", "Girl, Bye" and "White People". Boseman as T'Challa is playing against Leslie Jones and Chris Redd. Kenan Thompson is the host. "Y'all must have no mean streets in Wakanda," Thompson exclaims when T'Challa delivers one of his reflective, thoughtful answers. "I think you haven't spent much time in America."
Boseman is a doctor in the next sketch, at a press conference announcing the impending birth of a baby from "the world's first pregnant man". (Another press conference sketch? Oh, dear.) The father – played by Mikey Day – looks a bit concerned when Boseman says: "The baby must be delivered naturally through Mr Matson's urethra." They make a lot of vivid jokes about what will happen to his penis.
Aidy B: Aidy Bryant does a pretty impressive Cardi B impression. "I'm from the Bronx!" she cries. "She's from North Central Phoenix," says Beck Bennett.
"Cardi, your music has changed my life," she finally says to Cardi B herself. "I'm pretty much your best friend." Cardi looks uncomfortable.
"Just get the fuck outta here!" Cardi says. Bryant beams. This is the most pure moment of the entire episode.
Cardi comes on stage to sing, wearing an incredible black and white marabou feather ensemble and surrounded by four dancers in what look like pleather pants. She performs a medley of songs from Invasion of Privacy and she is terrific.
Weekend Update: Colin Jost shares the news that Trump has sent the national guard to the border with Mexico, even though illegal border crossings are at an all-time low since the early 70s, but it's in keeping with Trump's approach: "If it ain't broke, I'll break it."
New tariffs include taxes on "dried nuts, something that the Trump administration is already familiar with", says Michael Che.
Alex Moffat appears as Mark Zuckerberg, here to talk about calls for his resignation with Jost: "According to our data sets, I don't have to and you can't make me," he says.
"Unlike my facial expression, Facebook is going to change," Zuckerberg says, "Sure, maybe Facebook sold out on democracy to Russian troll farms, but on the other hand – Farmville!"
Heidi Gardner appears as "every boxer's girlfriend from every boxing movie ever, Angel," here to deliver the "good news". "You think you're marrying a prince on a white horse," she says of Meghan Markle, "until my horse rode in on a white stretcher." It's like she's auditioning for a role in a Soderbergh movie set in New Jersey. She'd be good in it.
Women queue up at Disney World to look in a magic mirror that will show them who their Disney princess counterpart is. But Leslie Jones' princess is … R Kelly? I'm not sure he should be seen as a source of comedy any more.
Read more: www.theguardian.com