UFCs female bantamweight division is now incredibly hard to predict but Ronda Rousey is meaner than ever after her aura of invincibility was stripped away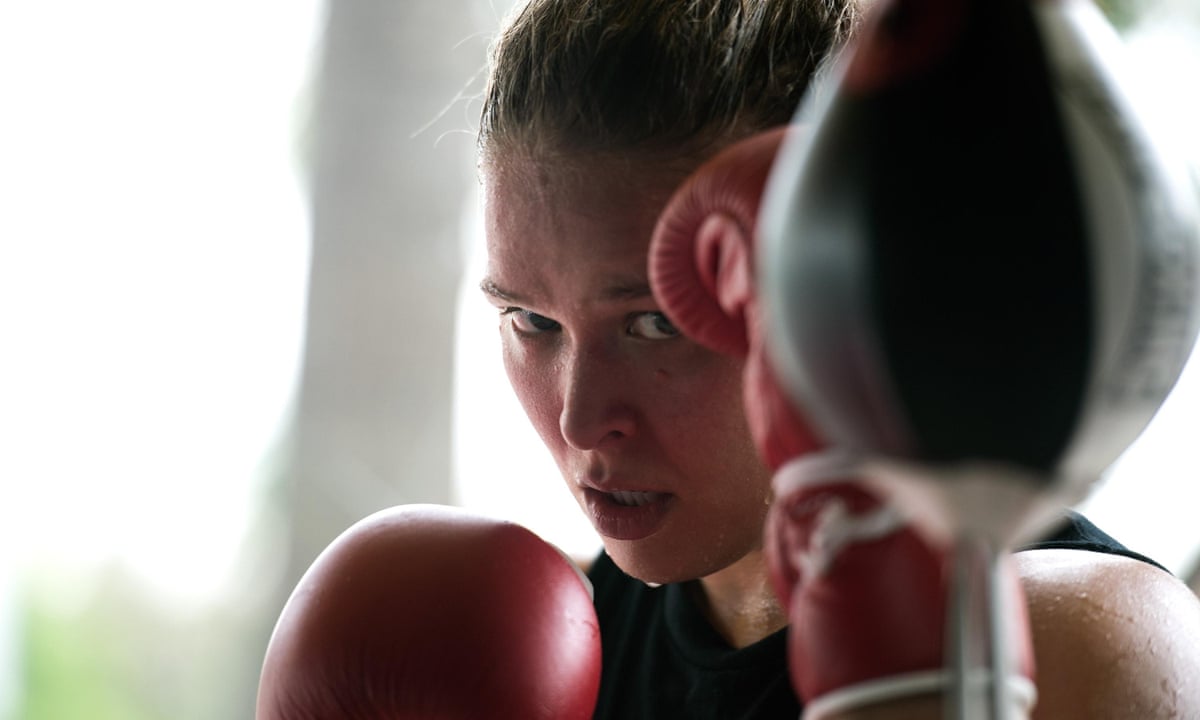 Then there were three.
When Miesha Tate put Holly Holm to sleep with a fifth-round choke on Saturday night, the 29-year-old former Strikeforce champion became the third woman in six months to claim ownership of the UFC 135lbs title.
Pretty quickly the bantamweights went from a seemingly stable weight class due to Ronda Rouseys ascension to something quite rocky. And the reality is this was happening well before the shift at the top.
Since the end of 2013 after Rousey beat Tate, Holm beat Rousey, Tate beat Holm, Rousey beat Cat Zingano, and Zingano beat Tate and Amanda Nunes a new reality suggests the belt wont remain in one womans hands for very long.
Before UFC 196, White said that putting Holm in the cage with Tate instead of waiting for the obvious comeback moneymaker between Ronda and Holly was the dumbest thing they could do as promoters. They saw the danger in not waiting, that Tate was potentially troublesome for the new champ and that a huge payday could disappear just as easily as a mixed martial artists perfect record. But they did it anyway.
Holly v Ronda is the biggest fight in UFC history, without a doubt, White said on The Jim Rome Show last week. I think this thing does close to 2m buys, and shes going in Saturday night against Miesha Tate, who a) is hungry and wants that belt so bad, and b) stylistically matches up very well to give her a tough night. So its going to be interesting.
The willingness to let the chips fall has long been part of the genius of the UFC. If Zuffa lost 2m pay-per-view buys after the fighter who dethroned Rousey was put away by a woman Rousey previously dominated, their penance will be in trying to sell Tate-Rousey 3. But that doesnt seem so bad, really.
White already announced that Rousey would get the next fight against Tate. The first woman to hold the UFC title at 135lbs hadnt been scheduled to return to the cage until October or November, after shooting a Road House remake and Mile 22. But neither film have production dates and with Tate standing in the way of Rousey and the belt her motivations may have shifted, particularly with UFC 200 around the corner. White said Rousey claimed she didnt watch the fights on Saturday, but her response to the result was back to work for me.
Tates win served as an eye-opener for Holm and Rousey. All of a sudden the woman who laid into Rousey in Australia isnt unbeatable, and that sense of things could help Rousey more than anyone. In this new context, the field is wide open and Holms UFC career stacks up as one great night.
If the era of 135lbs dominance is over, that could translate to fewer big-money promotions featuring women. Or parity might shake out another way, giving rise to frequent bankable bouts with major implications. Its a fine line because a merry-go-round can go on too long, and when it does things get boring quick. Essentially 135 has turned into a round-robin tournament. If at the end of the tournament one champion stands strong and asserts herself, all the upheaval may be the best thing that ever happened to the weight class.
So whos standing with the belt around her waist a year from now? From the most to least likely it goes:
1) Rousey – Her athleticism and power havent gone anywhere. Shes still the best athlete in the division, and stripped bare of the idea that she can do whatever she wants expect a resolute and determined fighter to emerge.
2) Zingano – Physical, skilled, resilient and dangerous. Zingano is an excellent fighter who made a terrible mistake against Rousey. Wins over Tate and Nunes suggest shes right where she needs to be.
3) Tate – It could be Tates time. Shes upped her game since losing to Rousey in 2013, and she did give Rousey a good fight in the rematch. Tate can punch with Rousey, and she will be at peak confidence against a fighter coming off as bad a loss as they get.
4) Holm – The hole many people speculated about in Holms game exists, and its going to give her trouble. She certainly has a lot going for her, but Holm is approaching 35, has been in the gym for much of her life, and seems as likely to slow down and take a step back as she is to persevere.
5) Nunes – The 27-year-old Brazilian has been pegged by some as the future of the division. She looked good but not great during a three-round decision win over Valentina Shevchenko at UFC 196. Nunes is physical enough to assert her will on opponents, but she still has to prove she can put them away when it counts.
Its still unclear who will come out on top, but its going to be fun finding out.
Read more: www.theguardian.com