Australian Whittaker makes up for slow start and hyperextended knee to win final three bouts against Romero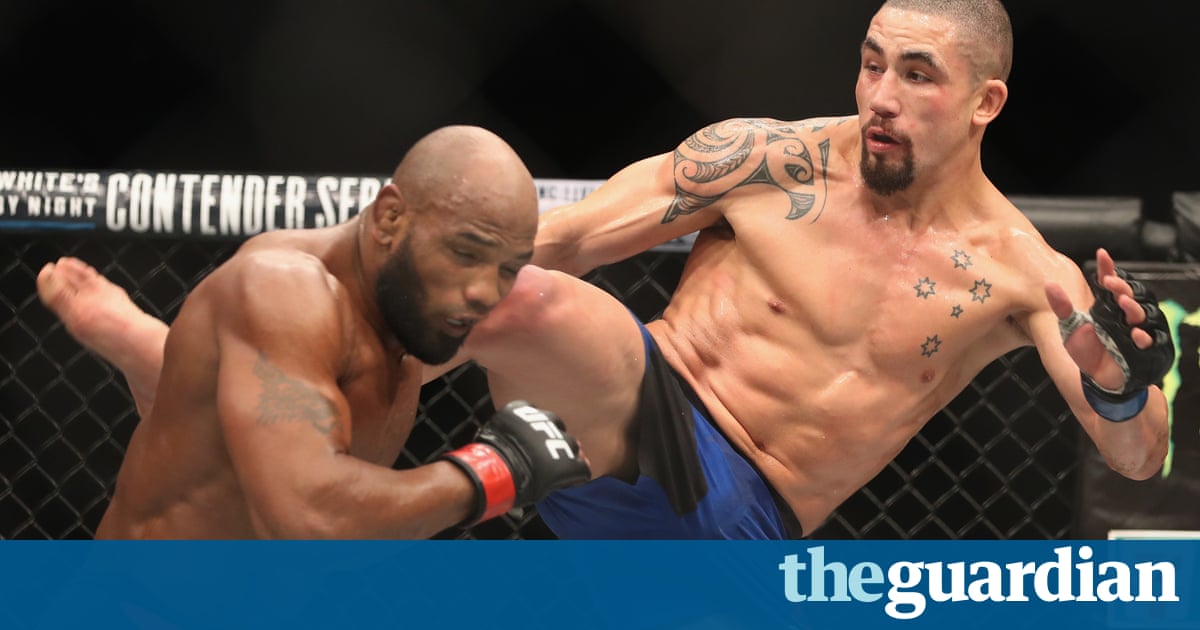 Australias Robert Whittaker won the UFC interim middleweight title on Saturday night in Las Vegas, surging in the late rounds to earn a unanimous decision over Yoel Romero at UFC 213.
Whittaker (20-4) recovered from a hyperextended knee in the first round with a strong striking performance, peppering Cuban Romero (12-2) with punches and kicks over the final three rounds. He won his eighth consecutive fight, earning the victory 48-47 on all three judges scorecards.
Its a moment Ive always dreamed of, Whittaker said. My knee was definitely hurt. I injured it in camp, and Romeros kick set it back weeks. I know that Romero will capitalise on any weakness he sees, so I had to play it off. Thats just what champions are made of.
The main event of the UFCs traditional July showcase in its hometown was cancelled earlier in the day when bantamweight champion Amanda Nunes was taken to hospital. She was scratched from her second title defence against Valentina Shevchenko, who criticised the champions preparation for the bout.
Alistair Overeem also beat Fabricio Werdum by narrow majority decision in the third career meeting of two veteran heavyweights, and former lightweight champion Anthony Pettis also returned to the division with a unanimous decision victory over Jim Miller.
Whittaker took advantage of his bouts promotion to the main event by claiming the belt in front of a pay-per-view audience. He earned the chance to fight for the full 185-pound title held for the past year by Michael Bisping, who is injured. Bisping stepped into the cage afterward and congratulated Whittaker in his own irascible style.
The fact that youre standing there with a belt on makes me sick, the Englishman said, throwing his own belt on the canvas. Take that belt. Fight for it.
Romeros Olympic-level wrestling skills kept Whittaker on the defensive for much of the first two rounds. Whittaker increased his striking output while Romero sat back in the third and fourth. Whittaker also defended Romeros takedowns more adroitly.
Romero was cut on his left eyebrow while Whittaker had a bloody nose and mouth in the final round, which looked even until Romero slipped onto his back with 90 seconds left after failing to land a strike. Whittaker jumped on top to rain down blows to the final horn.
All three judges saw the fight identically, scoring the first two rounds for Romero and the final three for Whittaker.
The 40-year-old Romero was gracious after his eight-fight winning streak ended, praising his opponent.
Whittaker will get the chance to remove the interim designation from his belt when Bisping returns from injury, although it might not happen this year. The middleweight division has been in limbo since Bisping shockingly beat champion Luke Rockhold last summer and then fought old rival Dan Henderson instead of Romero, Whittaker or another top contender.
Shevchenko showed up after being denied her long-awaited title shot when Nunes fell ill in the hours before their rematch.
Shevchenko was furious with Nunes, claiming the champions drastic weight cut was responsible for her illness. She also echoed UFC president Dana Whites statement that Nunes was medically cleared to fight, but declined to go from the hospital to the cage.
You cant just say, I dont want to fight, Shevchenko said. I couldnt believe at the very last moment that this would happen to me. Of course I am upset I understand what she wanted. She wanted to cut [weight] in a very short time. You cannot do this. Our bodies need more time to recover.
Shevchenko was greeted with loud cheers when she was shown on the arenas video boards before the main event.
Overeem (43-15) and Werdum (21-7-1) finished a trilogy of fights between two of the most accomplished mixed martial artists of their generation. Werdum won their first meeting in the Pride promotion in 2006, and Overeem won their Strikeforce heavyweight rematch in 2011.
Overeem was slightly better during the first two rounds, and he survived the third after Werdum floored him with a knee to the head.
Pettis (20-6) returned to form in his return to 155 pounds, dominating the veteran Miller with flair and force. Pettis lost his title belt in March 2015 to start a 1-4 skid that included a two-fight stint at featherweight, but he looked sharp while carving up Miller (28-10), who bled copiously.
Before the pay-per-view portion of the card, heavyweight Travis Browne took his fourth consecutive loss in a second-round submission to 40-year-old Russian grappler Aleksei Oleinik.
Read more: www.theguardian.com