Josh Gross: After a self-inflicted fall from grace spanning nearly three years, Jon Jones is finally back to reclaim the UFC light heavyweight title he surrendered in disgrace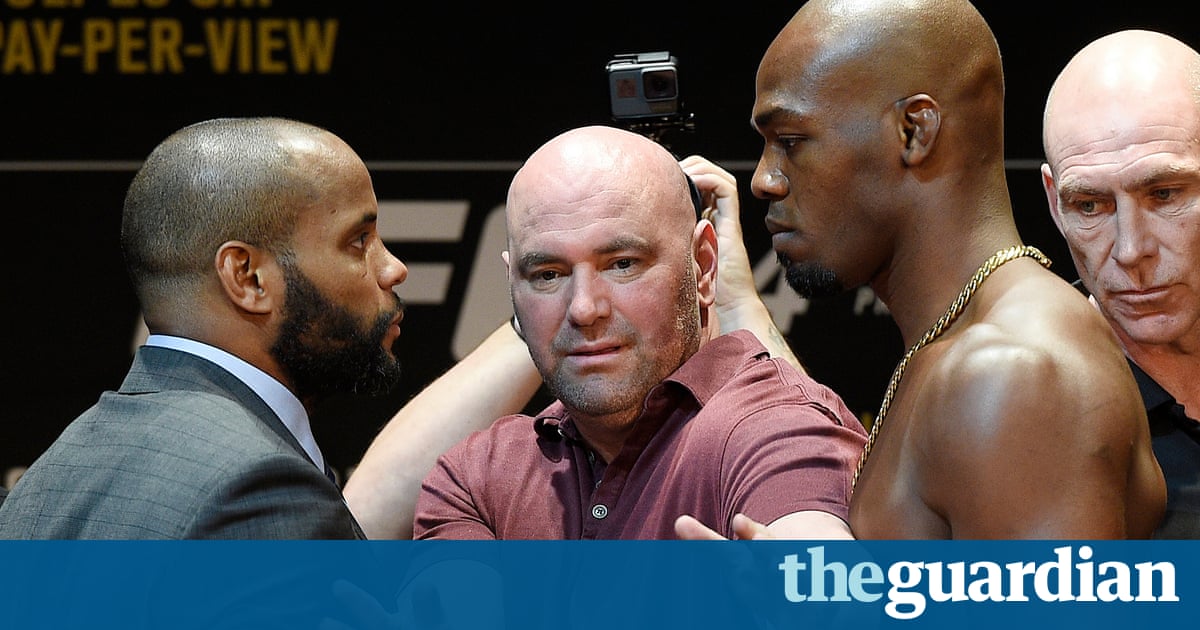 Somewhere along the way, Jon Jones stopped caring. On the list of sins against the gifts he was given, its arguably his worst.
I just took it all for granted, Jones said ahead of his UFC title challenge this Saturday against his rival Daniel Cormier. I mean, I genuinely wanted to be an inspiration to other people and inspire people and be a role model.
Jones turned 30 in July. By most standards the mixed martial artist from upstate New York, a son of a preacher, a middle brother to two Super Bowl champions, has, notwithstanding his 6ft 4in frame and outstanding fight record, proven to be a person unworthy of looking up to.
Consider the wreckage of his past two and half years. The UFC stripped Jones of the light heavyweight title twice. He is forever linked with driving under the influence, heavy partying, cocaine use and a marijuana pipe left on the passenger seat of a car he bolted from during a hit-and-run accident that left a pregnant womans arm broken.
Jones had everything in front of him. He was poised to be the man Nike made a move with into MMA. Instead he got ridicule, jail and probation. Jones may not have cared about his actions, but that didnt mean the world around him wouldnt. There were prices to pay. Steep ones. All self-inflicted. Some were incredibly embarrassing and inexcusable, like testing positive for estrogen blockers after foolishly ingesting a dodgy sexual enhancement pill prior to UFC 200, when Jones was originally scheduled to try and regain his title from Cormier.
People didnt see what I had done to get back to that point, Jones said of his lost main event slot on last summers UFC blockbuster card. I mean, things got really ugly for me with the lawsuits, the probation, the court stuff. It was so ugly. The hit [to] my image. The situation I put the girl in, it was terrible. It was terrible. And it took me a long time and a lot of effort to get back. I was so proud to show my fans you can come back from anything.
Instead, the man wearing a t-shirt emblazoned across the chest in gold letters with the word Unbroken after out-pointing Cormier in 2015, broke down in front of the media two days prior to the scuttled rematch.
There was the supposed greatest, tears streaming from his eyes, helpless. Out of this quivering mess, Jones says he arose a man who continues not to care, but in a way that suits him rather than detracts from what he was put on earth to do.
Said Jones: Ive forgiven myself for the things that happened.
Im here to fight, Im not here to protect whether you think Im a good person or not. Ive given up on that. I couldnt give a crap.
Neither could Cormier.
I dont care if hes made changes in his life, said the defending UFC 205lb champion. I could give two shits if hes going to church everyday and reading the bible and doing everything right. I dont care if hes going out every night partying. All I care about his him showing up Saturday.
The suspension for Joness last transgression ended earlier this month, allowing the UFC to arrange for him what sports organizations always do for their great talents: a quick return to competition.
This weekend at the Honda Center in Anaheim, California, a year removed from the debacle around UFC 200, Jones finds himself yet again in a highly visible main event that took time and effort to reach. Rather than advancing down the road to all-time greatness, though, Jones has spun his wheels attempting to get out of the mud of his own making.
I think people have forgotten about the things that make me special, Jones said. This fight to me really has nothing to do with Daniel Cormier. It could be anybody.
Jones has been dismissive of Cormier based on the fact that he won the first time around. This is where Joness ego, the hallmark of great winners, has manifested in the run up to their rematch. Jones gets to be the bad man, the drug user, the unrepentant ass because he has not faced a man that could defeat him. That is the currency he trades in, and Cormier would love nothing more than to bankrupt Jones and deprive him of that status.
Cormier can tell Jones the truth I didnt have to beat you, you beat yourself but he cant force the deposed champion to process it the way it was intended.
It validates what Ive been saying, Jones said. He didnt beat me.
Through three rounds of their first clash, Cormier was more than holding his own. Jones took punishment. Bloodied after Round 1, in a dogfight through 15 minutes, Jones should not be arrogant enough to think Cormier cant at least push him into hot spots.
Physically, though perhaps not stylistically, Cormier presents a near perfect matchup for Jones. The fact of the matter is that on his best day Jones appears to be too tall of a mountain to climb for the 38-year-old two-time Olympian, but because of the actions Jones has taken, and the price he was forced to pay, its quite likely that Cormiers run at the top of the division has allowed him to close the gap. To what degree is impossible to say until Saturday, but it stands to reason that DC will be the sharper fighter. He will stand opposite Jones knowing he has done everything he could to prepare for their second clash. Jones, meanwhile, will have scored one pedestrian win over a mid-tier light heavyweight, Ovince Saint-Preux.
As a result, Cormier is battle tested in a way he wasnt prior to losing to Jones, when his trainers demanded a scrap and he did everything within his power to deliver one.
Cormiers pressure in the first contest led in some respects to his demise. He pushed the pace, heeding the call of his corner, yet it left him susceptible to being hit, both to the head and to the body, and as the fight moved into the championship rounds the toll was clear. Cormier went a full five rounds just once prior to losing to Jones, a comfortable affair in which he battered heavyweight Josh Barnett, who suffered a broken hand early in the bout and was mostly ineffective the rest of the way. Against Jones, however, Cormier put it all on the table in the first 15 minutes and was required to do something hed never done: thrive in the championship rounds.
Since that bout, which taught him many things, Cormier (19-1) navigated a hard 25-minute contest with top contender Alexander Gustafsson, and his experience and savviness carried him triumphantly across the finish line.
At the end of the day, DC will be remembered as one of Jon Jones great contenders, said the former champion.
For all the foibles and heartaches that Jones has put himself through, his fans through, his promoter through, his return against Cormier is the type of encounter that anyone interested in high stakes competition must watch.
And what if Jones gets what he covets most, a return to MMA supremacy?
For an addict like Jones, there are tangible points of emphasis that must be priorities to live a life. Becoming champion is separate from this pursuit, almost secondary, almost a hurdle. The path and the process is the thing, and while Jones is on the verge of recapturing what he lost, he too is on the verge of facing temptations he failed to abate in the past.
Should he be so unredeemable as to live a life that costs him everything again, he simply wont withstand the toll that these actions bring. For the purposes of fighting, Jones is a freak athlete but he is human.
The public and media are consumed equally by Joness greatness as a fighter and his failures as a man. As Cormier aptly said, redemption for Jones is being able to compete again. Redemption is being a person who tries to do good.
Redemption is getting to do to do the things hes doing this weekend, Cormier said.
This journey back to the Octagon is no small thing for Jones (23-1, the lone defeat a disqualification in a contest he was clearly winning). He has received every advantage possible from the power structures around him, and the people closest to Jones have to hope he recognizes and feels the truth of his situation. Because if he doesnt respect what it took to return to this stage, he could very easily screw up and GOAT could be goat.
Among the men and women who have chosen to make a life of fighting, and among an even smaller group who do it with a flair and a grace and a viciousness that make them unique, and among a smaller fraction who win in resounding and spectacular ways, Jones does stand tall.
Ive convinced myself Im something special, he said. When you do that man youre dangerous, especially when you have the athleticism and work ethic to back it up.
MMA is an individual pursuit to the degree that selfishness can be virtuous. Jones was selfish in the wrong ways and it caught up to him. That game is done. Should he defeat Cormier on Saturday, Jones can be expected to face the same hard choices that he often acquiesced to.
Its on him to be selfish again, but selfish in the right ways. Jones may finally be aware his actions outside the cage are worth caring about.
This fight for me is about legacy, Jones said. It always has been.
Read more: www.theguardian.com