Every week, around the country, groups of men meet for some straight-talking therapy. Could this be the answer to the male mental health crisis?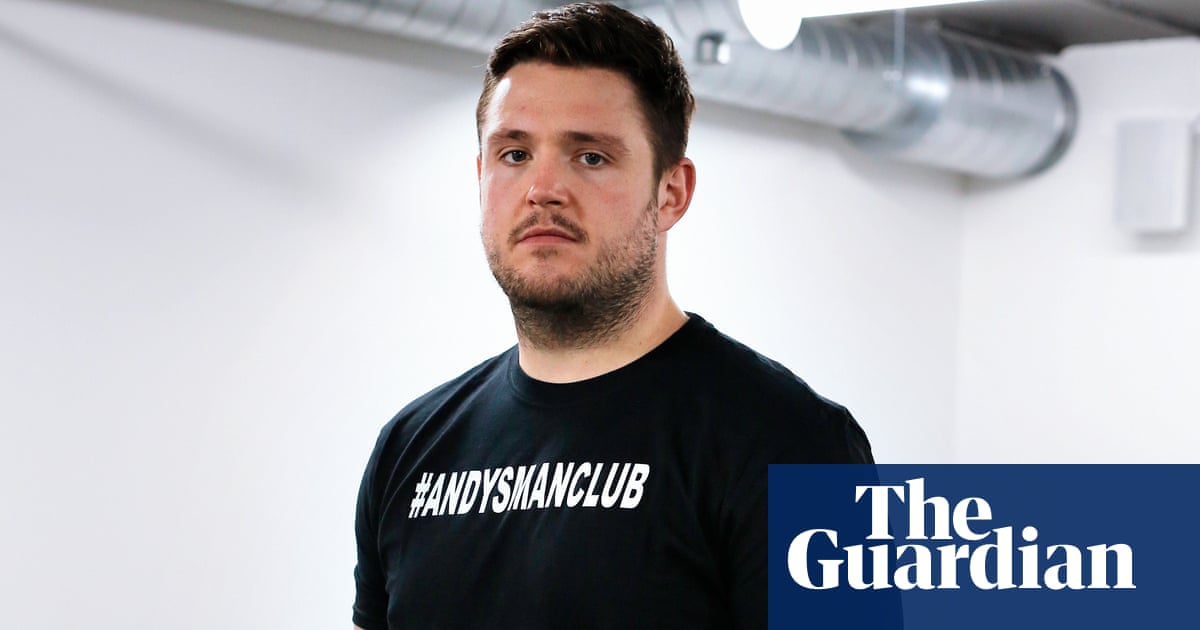 A stranger has just thrown a ball at me and asked me how my week has been. It's Monday night, and I'm sitting in a circle of a dozen men in a chilly community centre. This ball obliges me to tell the gang about my current emotional state. I have spent my entire adult life carefully avoiding situations like this. I came to Andy's Man Club with my eyes open, thinking I was ready to share. But that's because I expected a different sort of group therapy session; a place where normal blokes could open up without the corny bullshit that puts so many of us off this sort of thing. No one said anything about a ball.
These men are mostly working class and middle-aged; a few are in their 20s. There is one much older bloke, who chuckles: "I used to deal with my frustrations by wrapping a pool cue round someone's head." When I tell them that I have travelled here from out of town to take part in the group, they seem touched (to protect their privacy, I won't say exactly where the meeting takes place).
Over the two-hour session, the group share the ups and downs of their week: from battling for custody of their kids to a row with a boiler engineer. One bloke lost his wife last year and is just starting to date other women. One of the younger men says he was about to dump his girlfriend this morning when she suddenly announced that she loved him. It is sad, but compelling. The atmosphere is warm, matey, and devoid of the earnestness that I (rightly or wrongly) associate with a discussion about mental health, feelings and all the other subjects I tend to avoid. This is plain-speaking therapy.
As I squeeze the ball and blink back at the circle of men waiting for me to speak, I feel embarrassed and self-conscious. A bit annoyed, to be honest. But I open my mouth and start to tell them all about my week. I tell them about why I stopped drinking, and how sober life has been treating me for the past few years. I share a bit about a big argument I recently had with someone close to me. They listen and nod. And it feels OK.
Every Monday night at 7pm, 1,200 men nationwide attend one of 18 Andy's Man Clubs. Their logo – printed on an array of merchandise, including baseball caps, wristbands and keyrings – is a hand making the "OK" sign. Their slogan is "It's Okay To Talk". Andy's Man Clubs have received endorsements from Ricky Gervais and Danny Cipriani, among others.
"We've made talking about this stuff cool," says Luke Ambler, a 28-year-old former rugby league pro who started the club in 2016. That was the year his brother-in-law, Andy, took his own life. There had been no warning; his family and friends were aware that Andy had been struggling, but had no idea the situation had become so severe. Ambler believes that if Andy had been able to talk more openly then he would still be alive today. So he started a weekly group in his home town of Halifax, to provide an environment for ordinary blokes to share their thoughts and feelings without it being, you know, weird.
"We keep it real and we keep it simple," says Ambler, when we meet in a bar in London's King's Cross. He is constantly travelling the country giving motivational talks – sometimes to boardroom directors, sometimes to violent offenders. He wears a baseball cap and shorts, and speaks in a broad Yorkshire accent. He is funny and passionate; I can see why therapy-averse men would find him disarming. "There aren't many rules," he says. "We don't talk religion and we don't talk about medication, because we're not qualified. We base each meeting around five questions: 'How's your week been?'; 'Name one positive thing that has happened to you this week.'; 'Anything to get off your chest?'; 'What's your goal between now and next week?'; and 'Tell us about someone you appreciate in your life and why?' We want to help the men see their lives in a better light."
There are no mental health professionals working at Andy's Man Clubs. This, Ambler says, is part of the appeal. "There is no hierarchy. We have people who facilitate the meetings by posing the questions and putting the chairs out – but they are also there for the same reasons as everyone else: to share experiences, talk things over, try to give each other support." His methods might be modest but his ambitions are not: "Our goal is to halve the male suicide rate in this country. We're trying to save lives," he says.
Suicide is the biggest single killer of men under 45 in the UK. A Samaritans study last year found that men in the UK remain three times as likely to take their own lives as women, and in Ireland four times as likely. The need for greater government investment in mental healthcare provision is clear; what form it should take is less so. "There was a big gap we wanted to fill," says Ambler. "It was for ordinary blokes who want to cut all the crap and just speak normally about what is going on in their lives."
"Ordinary blokes" and "speaking normally" are both pretty vague terms. But I know exactly what he means. While discussion of mental health is now more widespread than ever, the language and culture that surround it remain overridingly feminised and middle-class in tone. What if you do like beer and football and "banter"? What if you do shout the loudest in the pub?What if the lexicon of mental health and emotional sharing doesn't trip off your tongue? What if you have grown up in an environment where the stigma associated with mental health is as strong as ever?
Read more: www.theguardian.com