Boxing author Donald McRae explains why he took the sink and tuned in for a bruising but brief engagement in the octagon which pointed Jos e Aldos unbeaten run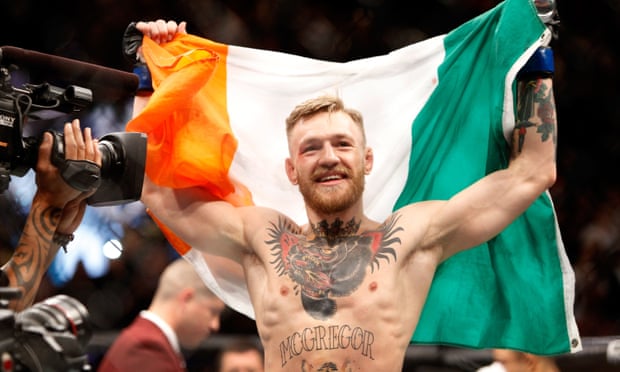 Saturday was a nighttime of firsts in our residence. It celebrated the first time my 14 -year-old son sat down with my spouse and I to watch a legislation of live boxing as, with somewhat widened sees, he saw the showbiz walkings, raw exchanges and thrilling hesitation before Chris Eubank Jr and Anthony Joshua recorded substantial success at the O 2 Arena. It felt like an old-fashioned pedigree nighttime in front of the Tv apart from the fact that this was a pay-per-view phenomenon while our daughters opted the X Factor in the room next door.
The second first was different. Once Eubank Jr had opposed with exhilarating flamboyance to stop Spike OSullivan, and Joshua overcame some troubling instants before used to produce ravaging uppercut which knocked out Dillian Whyte, I reached for the remote control. I recorded my first-ever UFC fight as Conor McGregor prepared to face JosA( c) Aldo in the early hours of the morning in Las Vegas.
Ever since I interviewed McGregor earlier this year, after his crushing victory over Chad Mendes in July, I have been forced to occasionally look beyond an old-school boxing ring and finally accept the increasingly shuddering wallop of UFC as a spectacle and a athletic. McGregor was like some of the great fighters Ive met in the past. He was daring and insolent, droll and ludicrous, courageous and a bit crazy.
I liked the tales he told me about escaping the living standards of a plumber in Crumlin, Dublin, and how he had supplanted it with 10 -hour shopping rampages in Vegas with his lover. McGregor boasted that he had become so rich that he never reeled out of bed before two in the afternoon. I wondered how long an extravagant life-style could keep hubris and violent mortification at bay.
McGregors figure continued rising up in interrogations I did with other sportsmen. Whether it was the rugby international Paul OConnell, talking about the direction in which the whole of Ireland seemed to have descended for the purposes of the spell of their egotistical countryman, or a rugby league icon in Jamie Peacock questioning what I thought of UFC, I had to admit my studied knowledge of mixed martial arts.
The Ultimate Fighting Championship began only in 1993 and its shallow record yelp from every hollering promotional showcase. McGregor v Aldo was the headline fight of UFC 194. Boxing in the United States is threatened by the notoriety of UFC but I have chuntered on with my usual scepticism because mixed martial art cannot lay claim to mortals of the stature of Joe Louis or Sugar Ray Robinson, Muhammad Ali or Sugar Ray Leonard.
Its a outlandish argument. We dont fall for the prayer and think of Lionel Messi or Dan Carter, Usain Bolt or Novak Djokovic, because of their historical precedes. We simply step back in amazement because they are so brilliant in the moment, in the here and now.
And so McGregor, and even UFC, has become a creeping presence in my honcho. Last-place month I experienced myself interested in the build-up to a fight between Ronda Rousey and Holly Holm in Melbourne. I was intrigued by the way in which a woman like Rousey had become the most difficult star in a business as swaggeringly macho as the UFC.
I didnt watch Rousey against Holm on television but I looked for research results early one November morning. It was offending to read that Holm had triumphed and a little distressing to see how naughtily the apparently invincible Rousey had been beaten.
McGregor faced similar dangers against Aldo a tough Brazilian who had not lost for over a decade. I could imagine how Dana White would be blinking because I had been in Dublin last-place month when the head of the UFC was also in town. White had winged to Dublin to show Conor some love with the promise that if McGregor demolished Aldo he will headline a UFC extravaganza at Croke Park next summer. My Dublin friends assured me 82,000 tickets will sell out in an hour.
In recent weeks Ive interviewed boxers as different as David Haye and Andy Lee. We spoke about Tyson Fury but I was been hit by how animated Haye and Lee both became when those discussions switched to McGregor. There was no scepticism of UFC here even if Haye took pleasure that Holm, a former boxer, has exploited some of her sweet discipline to outclass Rousey.
All of these believes twirled in my honcho as I eventually jumped into the UFC whirlpool on Sunday morning. My son was still asleep and the girls were out shop as the recording initiated to reel. I spooled on fast-forward through the preliminary contests, wincing at the slew of barefooted wrestling, males piercing each other on the floor and blood spouting down faces.
I wondered if my son felt the same uneasiness when watching OSullivan being pounded by Eubank or Whyte knocked cold by Joshua. But growing up in a house where Ive written notebooks about Joe Louis and Emile Griffith, hes "ve been told" boxing is about much more than brutality.
Slowing the recording to ordinary accelerate I watched McGregor prance his lane to the octagon. He examined utterly at ease amid the searing intensity. Aldo, in differ, seemed softened. I was as involved as if watching the last few minutes before a fight between two boxers I had followed for years.
All week McGregor had promised he would knock out Aldo in the first round. But I seemed the old-fashioned flow of skepticism while the Irishman rebounded thinly on his bare hoofs and nodded intently.
It happened so fast, with the fight lasting exclusively 13 seconds, I actually countenanced up in astound. I immediately hit the rewind button and McGregors left hand exploded again. As the black illuminations clouded his head, and he fell out hard, Aldo still landed a punch of his own. McGregor was hemorrhaging as he clambered up the two sides of the octagon like a destructive spider who had, somehow, obliged it all the way from Crumlin to Vegas. He called out at the heaving MGM Grand as if this was the UFCs equivalent of a King of the World howl from Cassius Clay.
The knockout went viral and McGregor is now even more of an online phenomenon. You would not know it if you leafed through the sports sheets of Britains national newspapers on Monday. There was batch of coverage of Joshua and Eubank but scarcely a word in publication about McGregor or the probability he will deserve more coin than any boxer in 2016.
If given a choice to interrogation McGregor or Fury again Id opt for the UFC featherweight rather than boxings new world heavyweight champion. But on Monday night I also chose to talk about boxing rather than UFC to my son. Instead of highlighting the stunning achievement of McGregor I predicted him that there will be an absorbing middleweight rivalry this coming Saturday darknes between Andy Lee and Billy Joe Saunders. Closer to dwelling, it still looks right to try to stanch the apparently unstoppable rise of UFC and concentrate on the conventional virtues of the boxing ring. I dont want to lose my son to the octagon quite yet.
Read more: www.theguardian.com