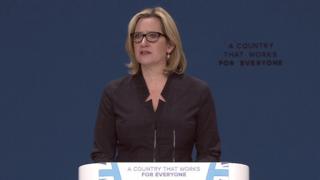 New curbs on foreign workers and students may be needed to "change the tide" of public opinion on in-migration, Home Secretary Amber Rudd has said.
She told the Conservative conference companies were "getting away" with not developing British workers and tougher recruitment exams were needed.
Students on "low-quality courses" could also face tougher entry rules.
She predicted assemblies 140 m to address movement press and moves to deport EU offenders for "minor crimes".
In a wide-ranging addres, her first substantial policy address since becoming home secretary in July, Ms Rudd likewise announced a further crackdown on illegal migration through new powers to go after proprietors, employers and banks that facilitate it.