The two players appear to have remained deaf to growing clamour over seeming endorsement of Saudi Arabia amid outrage over disappearance of Jamal Khashoggi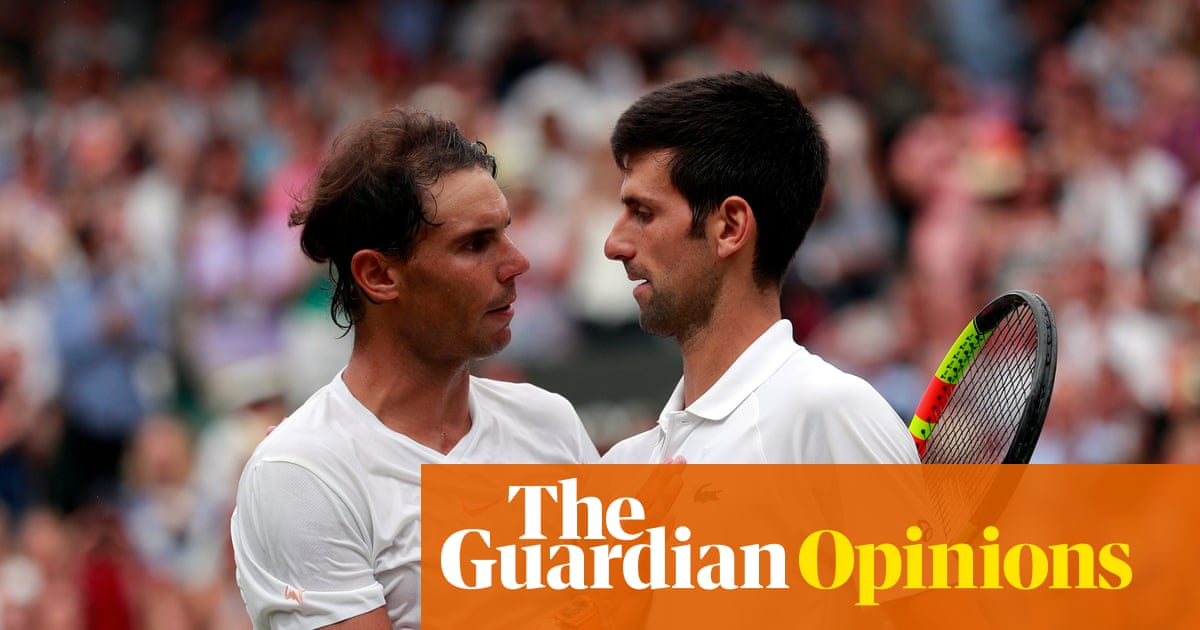 Rafael Nadal and Novak Djokovic, men of conscience and integrity, continue to risk their good name by accepting an invitation to play in a meaningless exhibition in Saudi Arabia, a regime under critical scrutiny for the disappearance of the journalist Jamal Khashoggi.
The kidnap-and-murder story has led news bulletins around the world – alongside Saudi Arabia's involvement in the conflict that has contributed to the famine engulfing Yemen – yet efforts this week by the Guardian to elicit a response from either player over playing in Jeddah on 22 December have proved fruitless.
It is as if they are waiting for the embarrassment to pass. And it is reasonable to conclude they are either oblivious to the criticism gathering around them or are ignorant of the seriousness of the circumstances. Neither is a good look for athletes who have always been aware of their wider responsibilities.
Djokovic, he of the cup-of-love gestures and the holistic life narrative, has campaigned for relief for floods in Serbia while Nadal was recently seen on the front pages of many newspapers helping to clear debris in Majorca after floods hit.
Both have charities to help disadvantaged youth through tennis. Both are decent men.
Still, they appear to have remained deaf to the growing clamour over their seeming endorsement of Saudi Arabia – and for little more than bigging up an exhibition that means nothing to the wider world. Debate rages over who among the elite of the game may choose Davis Cup over more lucrative team events such as the Laver Cup or the World Team Cup, scheduled to start in 2020. This, though, is a more fundamental ethical argument.
The reaction from fans and commentators has been swift.
An issue that has burned slowly partly because the tournament is three days before Christmas at the dead end of the season has ignited alongside the growing mystery surrounding the fate of Khashoggi, a prominent critic of the Saudi government.
And it must be difficult for any informed observer to ignore the weight of social media involvement, including this Twitter offering on Wednesday from the BBC's respected correspondent John Simpson: "Further horrible stories of Jamal Khashoggi's killing & dismemberment are emerging. The NY Times says 4 of the men identified by Turkish media as part of a hit squad sent to Istanbul to deal with Khashoggi belonged to Crown Prince Mohammed bin Salman's personal security detail."
Compounding the player's dilemma – as Deadspin observes – has been the timing of the unfolding story. Saudi Arabia's General Sport Authority announced on 7 October that Nadal and Djokovic would play each other in the King Salman championship. That was the day after Reuters reported Khashoggi had disappeared. Turkey later alleged Saudi agents had tortured and dismembered the journalist inside the consulate. The story advances by the hour.
These are more than an inconvenient sequence of events. They are part of a complicated international incident stretching from Istanbul to Jeddah to Washington, with developments and consequences that go way beyond mere tennis.
Tennis is part of a Saudi sports propaganda programme that has grown markedly since 2016.
Earlier this year there was the debut of motor sports in a country with no history of it, at the King Fahd International Stadium in Riyadh. Then the kingdom hosted its first international boxing match when the Liverpudlian Callum Smith beat the Londoner George Groves to win the World Boxing Super Series super-middleweight Ali Trophy.
Over the past week a football tournament gave Saudi Arabia billing alongside Iraq, Brazil and Argentina. A local report described it as a "high-profile tournament … designed in part to help Saudi Arabia get ready for the upcoming Asian Cup". In part, too, to make an abnormal country look vaguely normal. WWE – the other side of normal –has yet to cancel a planned show in November.
Even as a dozen global big-business and media heavyweights withdrew from an international conference in Riyadh – including CNN, the New York Times, Bloomberg, the Financial Times, Viacom, the Los Angeles Times and World Bank president, Jim Yong Kim – the sports entertainment business has been conspicuously squeamish.
Nadal and Djokovic, surely, cannot remain silent for much longer.
Read more: www.theguardian.com