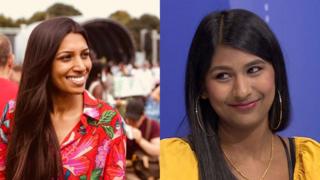 A Conservative politician, Nadine Dorries, has apologised for mixing up two British Asian women who both work in politics.
The MP for Mid Bedfordshire tweeted a video with Ash Sarkar in it – she's a political correspondent at Novara Media.
The tweet said Ms Sarkar "may be" the prospective candidate for Chingford and Woodford Green, but it was actually Faiza Shaheen.
Ms Dorries told Radio 1 Newsbeat it was due to the pair's accents.
Both girls responded to the initial mistake on Twitter. Ms Shaheen alleged Ms Dorries of visualizing all "brown women" look the same.
A case of misguided identity?
The Tory MP shared and commented on a tweet of a video about the people who support Labour leader Jeremy Corbyn.
In the video there is a clip of Ms Sarkar but she referred to her as Faiza Shaheen.
The tweet has now been deleted from Nadine Dorries' report, but she had shared a video from another account.