The home crowd will play its part in a hotly anticipated first leg where neither manager will compromise his attacking belief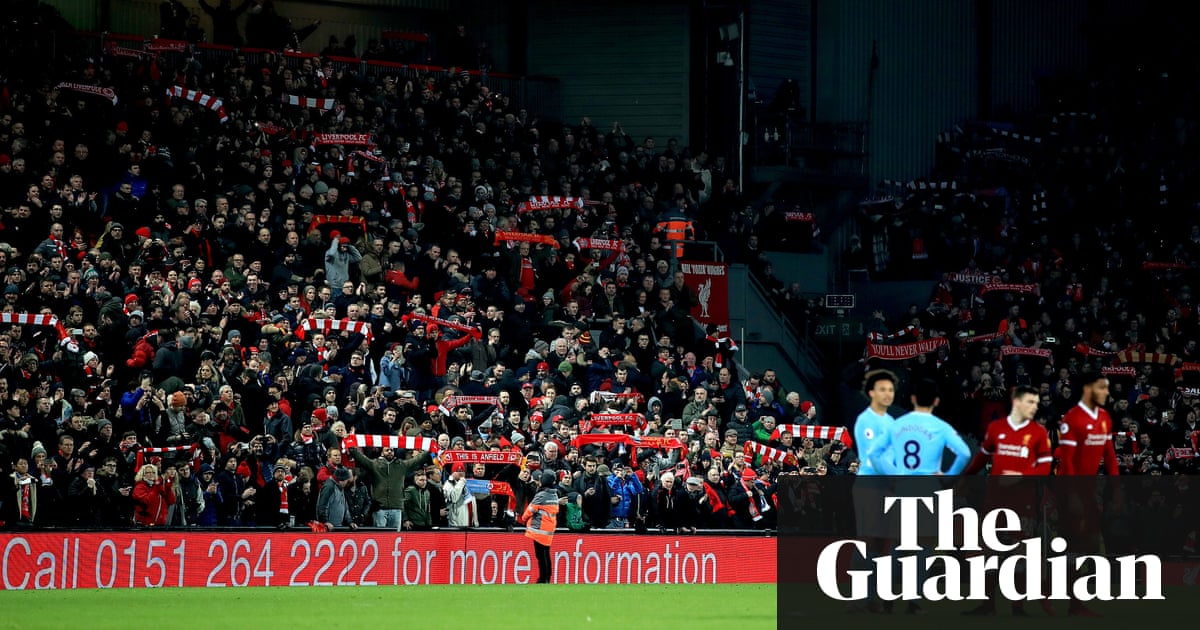 Before the cameras started rolling, Jürgen Klopp could be found in a quieter moment, leaning against the wall inside the tunnel, with the backdrop proclaiming Liverpool's crowd as the "12th man" and several verses of prose depicting what the players of Manchester City can expect tonight. "Anfield is unique. It lives, it breathes. It gives us strength," one verse of this wall mural reads. It is one of the last things the players see before going on the pitch and it is intended for the away players, as well as the home ones. "On match day it transforms. It comes alive to connect with its heroes. Through thick and thin, the ebb and flow. The decibels rise as its heartbeat sounds. Every ball is kicked. Every save is made. Every goal is celebrated."
And the thinking goes that when the din is at its loudest, as it always tends to be in European ties, opposition teams have a tendency to wilt under the sign for "This is Anfield". Malcolm Macdonald once tried to make a joke of it when Newcastle were in town, announcing: "I told you we had found the right place." Bill Shankly was talking to the Newcastle manager, Joe Harvey, at the time. "Aye," he shot back. "Wait till you get out there, son, and you'll know you're at Anfield. You can run but you canna hide."
There are a thousand of these stories about the mystique and atmosphere of the place Liverpool call home – a ground where Manchester City have managed only three wins in 62 years – and, sure enough, it was not long before Klopp and Pep Guardiola were being asked in their press conferences whether Anfield had the power to intimidate opposition players. Shankly was also asked that question once and, more than 40 years on, his answer remains the best one. "Only the bad ones," he said.
That, in essence, is the problem for Liverpool in the first leg of this Champions League quarter-final: City do not have bad ones, or even average ones. David Silva, Kevin De Bruyne, Leroy Sané and so on – players of this nature do not tend to be subdued by the noise of a crowd, the history of a stadium or whatever kind of welcome Liverpool's fans intend to put on for them outside.
Klopp described Liverpool's opponents as "one of the best teams in Europe, if not the best team in Europe". They are definitely the best in England judging by the Premier League table and, if they can be beaten, it would be a considerable surprise if it is because they freeze on the night. Guardiola, who has been involved in a few big games before, seemed suitably bemused by the suggestion.
Far more likely the sides will continue where they left off in January when Liverpool won 4-3 in a bona fide seven-goal thriller with both teams going at one another at full pelt. Guardiola says there is no reason to change City's approach just because this is a Champions League tie and Klopp, once again, has promised to attack. "Don't sit back," the Liverpool manager said. "Sitting back is not a solution against City."
Not every manager will share that view – not least the one who will take Manchester United to the Etihad on Saturday – but Klopp speaks from a position of knowledge bearing in mind there is nobody else in the business with a better success rate against Guardiola's teams. Klopp has won six out of their 12 encounters in England and Germany and drawn one of the others, though he interrupted one question on this theme to point out it was only last September that he also discovered what it was like to lose 5-0 in a dugout opposite the Catalan.
Nonetheless, the modern City do not regard Anfield as a happy hunting ground and have never actually won there during almost a decade of Abu Dhabi ownership. The last occasion was a 2-1 victory in 2003 when Kevin Keegan was manager and Nicolas Anelka scored the winner in the third minute of stoppage time.
Before that, it was Boxing Day 1981, when a 3-1 defeat for Liverpool persuaded Bob Paisley to remove the captaincy from Phil Thompson, and then it is necessary to go all the way back to an FA Cup tie in February 1956. City's 2-1 win on that occasion was hardly a surprise bearing in mind Anfield was home to a second division team at the time.
Sergio Agüero's absence is obviously a setback for City, even if the team's most prolific striker has not scored at Anfield in nine previous games. Gabriel Jesus, who turned 21 on Tuesday, is hardly the Lee Bradbury of his day and Guardiola made it absolutely clear he would not entertain the idea of asking his team to be less adventurous than usual. If he delivered that kind of message, he said, his players would think the opposition must scare him.
Knowing what we do about Guardiola, he will be more occupied with how many away goals can be scored and coaxing more from Raheem Sterling than the player's other visits to Anfield since leaving the club in 2015.
Sterling was substituted on the last occasion, after possibly his worst performance of the season, and City need all their front players to be on form because away goals in a two-legged tie of this nature are likely to be crucial.
Klopp was asked how much he knew about the night Liverpool knocked out Chelsea in the semi-finals in 2005 and the effect the crowd had that night. But then, the manager of this club is often asked to go back in time. "I meet people who can tell me each goal Liverpool scored 37 years ago," he said. "I like this, and we need to be proud of our history, but we also need to create our own history. I did that a lot in the past with my former teams and, at one point, you need to do your own thing."
Read more: www.theguardian.com