Patriotic senator and Republican presidential candidate admired for his bravery as a prisoner in Hanoi, and for his readiness to speak truth to power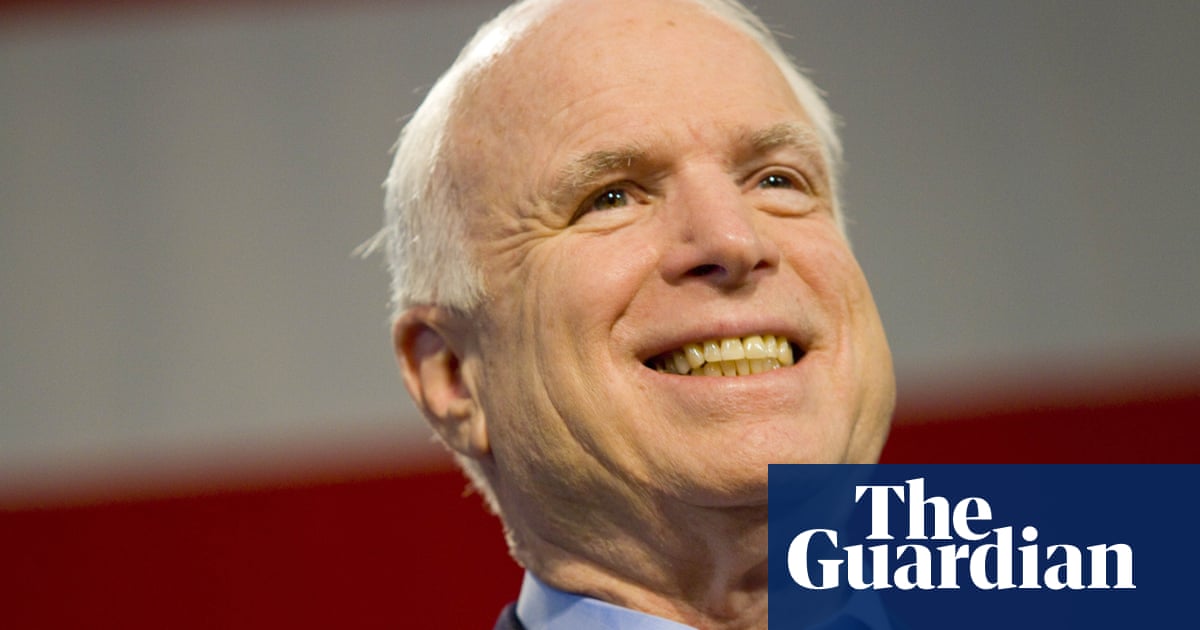 Senator John McCain of Arizona, who has died aged 81 after suffering from brain cancer, was for many Americans an authentic national hero. The son and grandson of admirals, he was a pilot who, shot down over North Vietnam, inspired his fellow prisoners by his courage under savage beatings and torture so severe that to the end of his life he could not lift his arms above his shoulders. He refused offers to be sent home, to deny his captors a propaganda victory, and inspired older and higher-ranking prisoners with his exceptional bravery and leadership in jail.
As a Republican senator and as a candidate for the presidency he combined fierce traditional patriotism with an unpredictable independence of mind. The conservative journalist William Buckley said McCain was "conservative but not a conservative" – conservative, that is, in his instincts and beliefs, but not a member of the conservative movement. Barack Obama, McCain's victorious rival for the presidency, when he learned that McCain had been diagnosed with cancer, commented: "Cancer doesn't know what it's up against."
Only President Donald Trump, who avoided the draft for Vietnam, refused to acknowledge McCain's heroic status. "He's not a war hero," Trump said. "He's [called] a war hero because he was captured. I like people that weren't captured."
In the Senate, to which he had been elected in 1986, McCain acquired such a reputation as an independent-minded Republican that in 2004, John Kerry, the Democrats' presidential candidate, asked him to be his vice-presidential running mate. McCain refused, saying he was "a pro-life, deficit hawk, free trade Republican".
In 2000 he looked for several months the likely winner of the Republican candidacy before he was beaten by George W Bush in one of the dirtiest political campaigns in living memory. In 2008 he came even closer. The previous year he had again been the frontrunner for the Republican nomination, but lost ground because of his support for the war in Iraq. By March 2008 he had won the Republican nomination easily and in August selected the Alaska governor, Sarah Palin, as his running mate. He hung on within a handful of percentage points of Obama until the November election.
He was a stubborn maverick. He backed gun control and voted for liberal positions on immigration, even though they were unpopular in Arizona. Understandably, he was critical of the Bush administration's torture of "enemy combatants" in the Guantánamo Bay detention camp and elsewhere. But although he insisted that he did not want American troops to remain in Iraq any longer than needed (one of his sons served there as an officer in the Marines), he also said he would support staying there for 100 years if that were necessary to do the job.
In domestic politics, too, once he had emerged as the presidential candidate, he came closer to the Republican mainstream. He came out for tax cuts, which his opponents said favoured the wealthy even more than those advocated by Bush. He proposed policies to reduce drastically the US's dependence on imported energy. Yet in 2001 he teamed up with the liberal Democratic senator Russ Feingold to push through a major reform of election campaign finances.
McCain was an exceptionally complex man, with a political career that often took him in contradictory directions. He consistently opposed the excessive influence of money and lobbyists in Washington, though Democrats pointed out that many of his advisers were lobbyists.
Despite his courage, both physical and moral, he was far from a saint. Capable of great personal charm, he had a volcanic temper and could be enormously rude, even on occasion to his wife in public. This may have been exacerbated by his sufferings in Hanoi, but he was never a model of conventional virtue. As a young man he was a hard-drinking, hard-partying tearaway who excelled at wrestling and boxing.
McCain told off-colour stories and memorably once said "Fuck you!" to a fellow senator on the floor of the Senate chamber. The thread that connected all his political instincts was a strong, old-fashioned patriotism. That explained his initially unpopular stance on Iraq. It also explained why he continued to be more sympathetic to immigrants than many Republicans, given that the US was a nation founded on immigration. He was deeply proud of his country but nonetheless felt strongly that much in American public life should be reformed.
McCain's patriotism was inherited from an originally Confederate family who once owned a 2,000-acre plantation with slaves in Mississippi. His grandfather was an admiral in the US navy during the second world war and was in command at the naval battles of Leyte Gulf and Okinawa. John McCain III was born to John Jr and his wife Roberta (nee Wright) in the Panama canal zone, where the family was stationed at the time. As a child he attended more than 20 schools as his father moved from base to base. When a political opponent once called him a carpetbagger, meaning that he wasn't a genuine resident of Arizona, he was able to retort that the place he had lived longest was Hanoi.
Read more: www.theguardian.com