The professional soldier and lawyer is aiming to become the first Native American woman elected to Congress. Her journeying has been different to say the least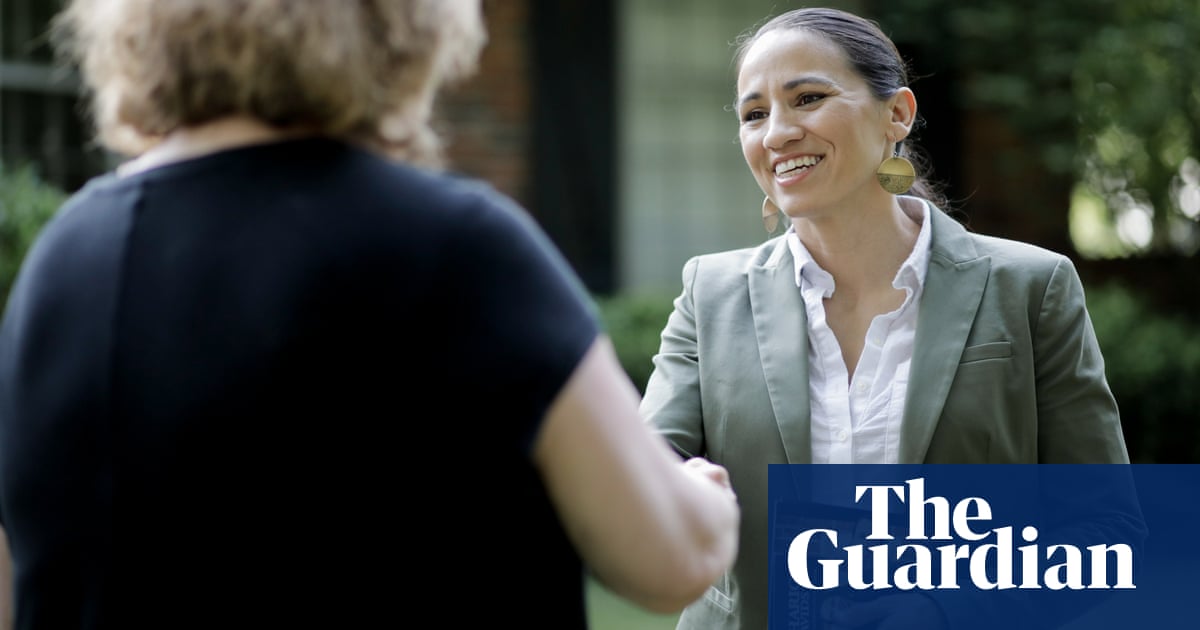 On 1 November 2013, Sharice Davids stepped into the cage for her first professional mixed martial arts fight. Garmented in grey-haired leggings with a pink strap all over the waist and a pitch-black sports bra, Davids speeded around her area of the cage, eyeing her opponent, Nadia Nixon, as the ring announcer roared their reputations to the eager crowd in Kansas City, Missouri.
At the din of the buzzer, Davids leapt forwards and territory a clean left hooking that moved her antagonist scrambling to the matting. The army encouraged as Davids organized her foe and persisted her foray. Not long subsequentlies, the adjudicator discriminated the fighters and allowed Davids back to her feet. "Shes had" won her first professional engage in less than two minutes.
The Kansas native was calm, precise and brutally effective in victory- a perfect have begun to what could have been a fruitful profession. Though it was clear that Davids belonged in the fight game, few be understood that the stage she was destined to rival on "wouldve been" political arena.
The 37 -year-old is one of the Democrat running against Republican Kevin Yoder in Kansas's third congressional district. Since her safarus took off, Davids has received support from the American political action committee, Emily's List, which announced it was putting $ 400,000 of Super Pac fund behind her. Should Davids triumph Tuesday's Democratic primary, she will lead against Yoder in the general election on 6 November. As a member of the Ho-Chunk Nation, a Native American tribe in Wisconsin, Davids also has the opportunity to manufacture record as the first Native American woman to prevail a seat in the US Congress.
For Davids, her dual lifestyle as a public servant and a fighter has existed since college." I had my first[ amateur] engaged towards the end of 2006 and I finished my bachelor's degree in May of 2007 ," Davids tells the Guardian during a telephone interview.
As a child, Davids was fascinated with martial art. She was haunted with Bruce Lee, admiring his piece ethic and punishment, and simulated him by wearing a pitch-black region around the house. However, despite her obsession with Lee, Davids did not begin rehearsing martial arts until she was a 19 -year-old college student.
" I didn't get to study because I was raised by a single mom ," Davids says, echoing her childhood." There were three of us and it was just too expensive to pay for me to do martial arts rehearsal ."
Davids started by learning capoeira and karate. She then moved on to taekwondo with a coach-and-four who had suffer train MMA professionals. After several months together, the manager asked if she would be interested in fighting in a local MMA event. Davids had little interest in participating in what she believed was a ruthless boast. Over season, however, Davids learned more about the athletic, as well as the training regimen that fighters go through in preparation for bouts.
By 2006, Davids was prepared to take a leap of faith. She made her amateur introduction at the International Sport Combat Federation's Midwest FightFest, and prevailed in less than a time. Victory was exhilarating but Davids decided to instead to focus on her analyses at Cornell law school. She knew better than is striving to make a career out of the sport she had grown to cherish.
Read more: www.theguardian.com