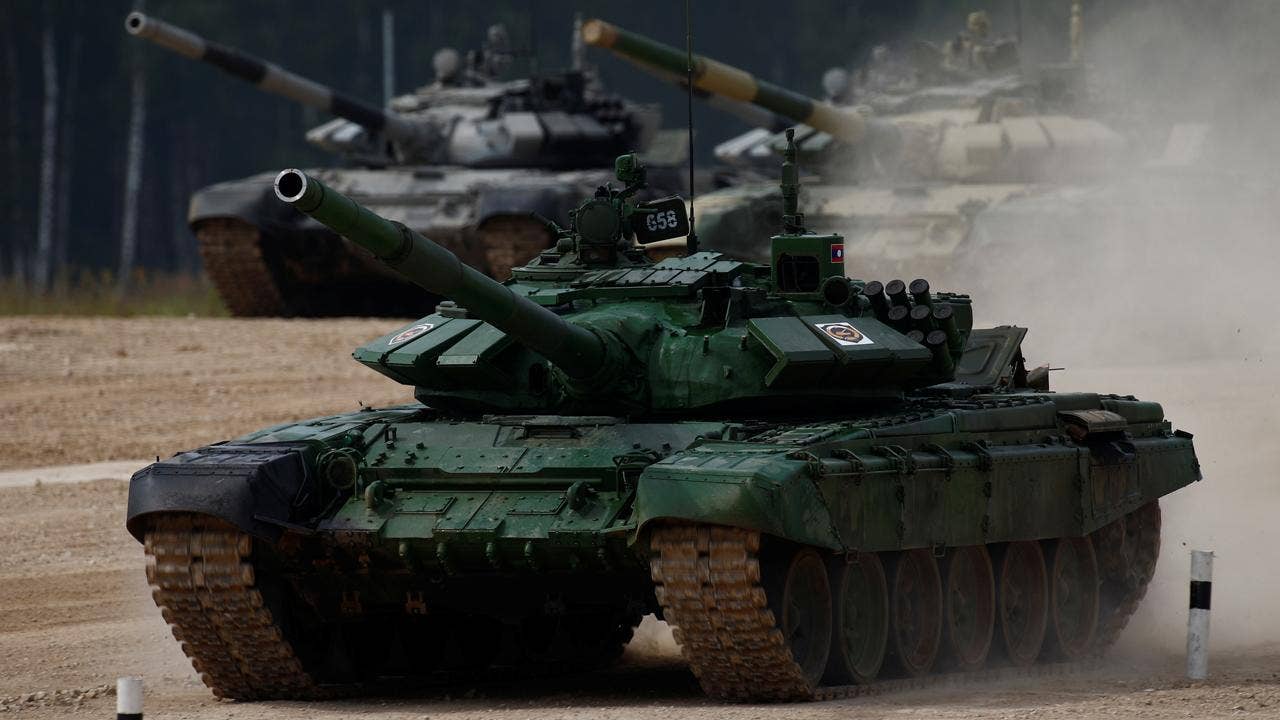 Tanks from Russia, China, Iran and more are battling it out in Russia in a gigantic spectacle competing for the title of best tank.
The 2017 edition of the International Army Games in Russia is underway and one of the biggest fixtures, watched throughout the country, is the tank battle component.
The event takes place at Russias Alabino military training center. The biathlon tests tank crews on their speed through an obstacle course and the accuracy of their shooting.
But over the course of the two-week event from July 29 to August 12 this year, China, Kazakhstan and Belarus will also host some of the other events in the games. Notably, this is the first time Russia has had other countries host some of the events.
HOW SHARKS CAN HELP THE US MILITARY IN THE FUTURE
Who are the competitors?
Eighteen countries have been invited to compete, including some whom are not particularly friendly to the U.S. and some whom have a rich history of human rights abuses. Countries included in the event are Iran, Egypt, Angola, Morocco, Uzbekistan, Venezuela, Zimbabwe and India.
For countries that come to the event without a tank, Russian news agency TASS indicated they are equipped with Russian T-72B3 tanks.
Russia is using a modified T-72B3M, while China is duking it out with its Type 96 variant tank. This year, India is also bringing its Russian made T-90S tanks.
The T-72B3M
Recently fielded by the Russian army, the T-72B3M is an updated variant of the T-72.
Reports indicate it incorporates advances including reactive armor, enhanced communication, better mine protection, more compatibility with advanced projectiles and a better sight for the tank commander.
Russian media reported that the Russian Defense Ministry purchased several hundred T-72B3M tanks, receiving the initial 20 earlier this year.
US tanks against the competition
Even though the U.S. isn't competing in the event, its tanks reign supreme. But concerns have been voiced that these days the U.S. is failing to keep up with the competition particularly lagging behind countries whose relationship with the U.S. could be described as chilly.
For example, Lt. Gen. John M. Murray recently noted in his Senate Armed Services Committee testimony that a number of foreign countries have tanks – including Russia's – can match the U.S. M1 Abrams.
USS GERALD R. FORD IN PICTURES
M1 Abrams
Named after former Army Chief of Staff General Creighton Abrams, the M1 Abrams tank has been a go-to for the U.S. Army, U.S. Marine Corps and several allies since it entered service in 1980.
Made by General Dynamics Land Systems, this powerful tank has an armament that can devastate an enemy. The M1A2 variant, for example, can include a 120mm XM256 Smooth Bore Cannon, 7.62 M240 coaxial machine gun and .50 cal M2 machine gun. It carries a crew of four and can reach speeds of more than 40 miles per hour.
This is one heavily armored and heavily armed tank, weighing more than 60 tons.
US tanks with TUSK
Although the Abrams is nearly 40 years old, they have been periodically modified since first introduced. And since the terrorist attacks of September 11, they have been regularly updated.
The Tank Urban Survival Kit (TUSK) is one of these programs that have enhanced the Abrams in a range of ways. TUSK has made them even more lethal while also improving the protection and safety of the crews.
Under TUSK, the tanks added several exiciting enhancements, including a reactive armor that can defeat rocket-propelled grenades and armor shields for the machine gun positions.
Who will win the battle of the tanks?
So whose tanks will reign supreme at the Russian tank Olympics?
Last year according to TASS, the Chinese team took home the best result in last years individual race with a finish of 21 minutes 3 seconds, while not missing any targets.
In this year's event, the Russians have already set an all-time tank biathlon record with the first Russian crew achieving the best time, 19 minutes 10 seconds, without a single target miss, according to TASS. Russia media is widely predicting Russia will bring home the tank win.
Hear about American Fearless Freedom w/ MMA star, Ranger, Special Forces Sniper Tim Kennedy here.
Allison Barrie is a defense specialist with experience in more than 70 countries who consults at the highest levels of defense and national security, a lawyer with four postgraduate degrees, and author of the definitive guide, Future Weapons: Access Granted, on sale in 30 countries. Barrie hosts the new hit podcast Tactical Talk where she gives listeners direct access to the most fascinating Special Operations warriors each week and to find out more about the FOX Firepower host and columnist you can click here or follow her on Twitter @allison_barrie and Instagram @allisonbarriehq.
Read more: www.foxnews.com