The Twin Peaks director lives for his work. He talks about his four marriages, why explaining his films is a crime, and what makes him a happy camper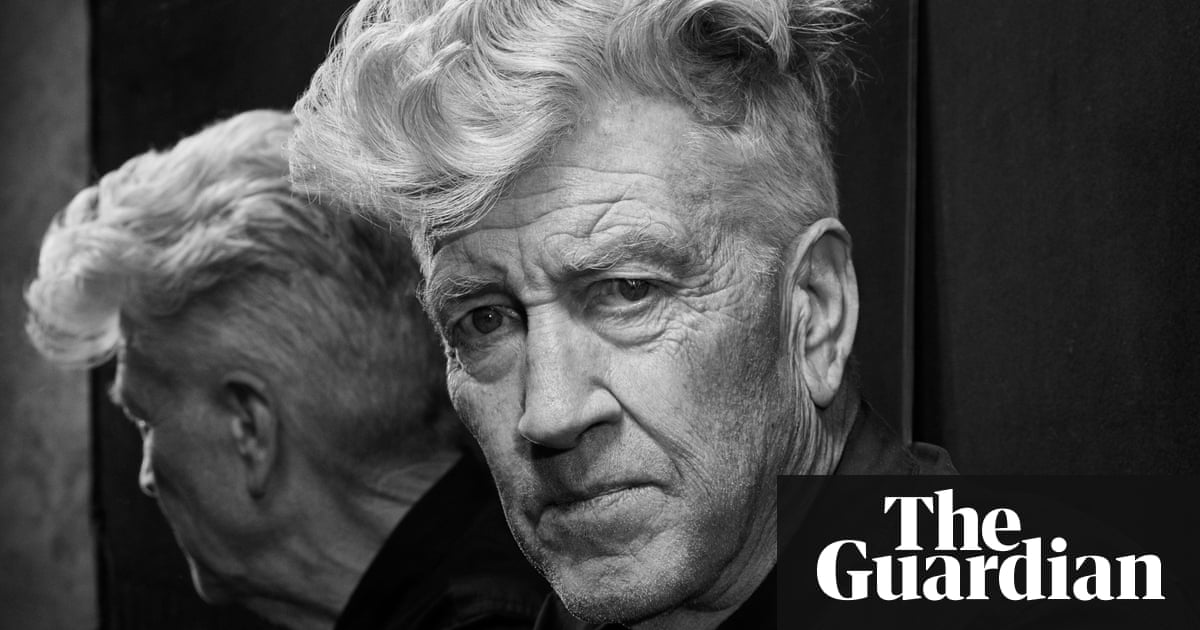 David Lynch seldom smiles in photographs. His etched Easter Island statue of a face doesn't glower so much as brood; lips pursed and eyes hooded, he looks every inch the auteur in winter. The quiff completes the effect, its lush swirl seemingly frozen in place by alarming, Lynchian thoughts.
In his 40 years of film-making, the director has taken audiences from sunlit American idylls to surreal dimensions populated by demons, doppelgangers and psychotic killers. His are scenes you can't forget: the whimpering, deformed baby in Eraserhead, the severed ear in Blue Velvet, the blood-spattered, skull-crushing violence of Wild At Heart, the nuclear explosion in Twin Peaks: The Return. Google "David Lynch creepy", and you get 5.5m results.
Lynch works from a studio on a slope above one of three adjacent homes he owns in the Hollywood Hills, just a stone's throw from Mulholland Drive. He is reclusive and seldom leaves this little realm, let alone grants audiences to journalists – but he is prepared to now, on the eve of publishing an unconventional memoir-cum-biography, Room To Dream. An assistant escorts me through the house (sleek concrete walls and surfaces, floor-to-ceiling shelves of VHS cassettes and CDs) and up through the garden to the studio. A snake slithered across the path earlier this morning, the assistant says.
Lynch sits in a corner, hunched over a lithograph. The tabletop brims with paint pots, lotions, chemicals, gel formula cement, lithographic paper, pneumatic drills, cables, wires and paintbrushes. There is a mug of coffee, a pack of cigarettes. The director wears cracked, ancient boots, ragged chinos and the remnants of a black buttoned-up shirt that looks to have been shredded by a badger.
It's a scene that might be intimidating were it not for a great, largely untold secret: David Lynch is a cheery, congenial soul who rivals the Simpsons character Ned Flanders for howdy-doody niceness. "Hey, bud!" he greets the assistant, offering me a handshake and wide smile. He laughs, often, and yearns for peace on Earth. "I love my life and I'm a happy camper," he says. "It would be nice if we were all able to fulfil our desires and live good, long, happy lives."
The studio is a bunker-like structure of concrete and glass that overlooks a panorama of trees, bougainvillea and villa rooftops. You can feel the morning sun and hear birdsong. "I like it up here, the trees," Lynch says, speaking with the halting lilt of Gordon Cole, the FBI agent he plays in Twin Peaks (only without the deafness). "It's a feeling I get in LA, a feeling of freedom. The light, and the way the buildings are not so tall. You can do what you want." Would he like a coffee, his assistant asks? "Yeah, I'm about ready for a hot one, thank you." There is no toilet up here, so to save trekking down to the house the boss pees into a sink built into the wall. "See that thing with the handle? It pulls out," Lynch explains. "You can pee right in there. Then you run the faucet."
A large canvas standing in the middle of the studio, an unfinished work, depicts a tree with children. Closer scrutiny reveals that the boy standing at the base is holding a knife. A girl on the branch above is cowering. Another girl is dangling from a noose. Neither look like candidates for good, long, happy lives.
You can find suffering and death anywhere if you look, Lynch says. The other day, a spider's web next to his desk snagged a bee. The bee broke free, only to get snagged again. "The spider came out, started wrapping him, and pretty soon the spider had him wrapped completely. And I think bit him, too. Then he undoes the packaging and drugs him and drags him." Lynch smiles at the memory. "Man, that is a violent thing." LA is glorious, he says, "but you see things."
What Lynch sees, and then puts on screen for us to see, is one of the great enigmas of cinema, one that has launched a thousand film studies PhDs. When the director looks at a manicured lawn, his mind's eye tunnels beneath it to hidden mystery, mysticism and depravity – visions he has turned into mind-bending television and film. It's an oeuvre people tend to love or detest, and even devotees don't claim to fully understand. With the exception of The Elephant Man (1980) and The Straight Story (1999), his films are oblique and non-linear. Who is the chipmunk-cheeked Lady in the Radiator who crushes sperm-like worms while singing to the father of the mutant baby in Eraserhead? How much of Mulholland Drive is real, or dreamed by Naomi Watts' aspiring actor? And is the ending really the beginning?
Lynch is the last man to provide any answers but now, at the age of 72, he has opened up – sort of – in his 577-page doorstopper of a book. Room To Dream declares itself at the outset to be a chronicle of events, not an explanation of their meaning. Chapters alternate between Lynch's own recollections and those of his friends, relatives and collaborators, as told to his co-author Kristine McKenna. There is his boyhood in 1950s middle America, his early painting career, his four marriages – to Peggy Lentz, to Mary Fisk, to his longtime editor and producer Mary Sweeney, to the actor Emily Stofle – as well as his relationships with other women. What emerges is not so much Lynch, but two very distinct Lynches: the single-minded and reclusive visionary who is also a savvy media player; the hermit who very consciously nurtures his brand.
He is at his most animated when discussing ideas. "They're like fish. If you get an idea that's thrilling to you, put your attention on it and these other fish will swim into it. It's like a bait. They'll hook on to it and you'll get more ideas. And you just pull them in."
When he puts a story on screen, he does not think in term of beats or plot points. "No, it's a feeling, more of an intuition. It's the idea that you've fallen in love with, and you try to stay true to that. You see the way that cinema can say that idea, and it's thrilling to you."
Read more: www.theguardian.com