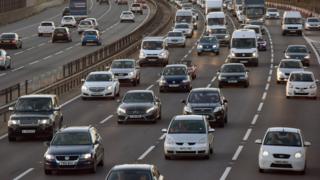 Roads have been "fairly steady" on Friday as travellers go home for Christmas, after advice that it could have been the season's busiest day.
The AA motoring radical had expected streets to be busiest from early evening onwards but said moves had prepared well.
On the rail network, a record number of engineering wreaks begin later.
Parts of the UK were hit by high winds of up to 91.5 mph as Storm Barbara took hold.

Traffic and weather news on the BBC
Christmas travel: What you need to know Severe gales due across Scotland as Storm Barbara moves in Storm Barbara trip disturbance cautioning for Wales BBC Travel BBC Weather Media captionStorm Barbara threatens 90 mph jazzs in Scotland this evening Image caption Professional large-hearted movement surfer Al Mennie braves the elements in Coleraine, Northern Ireland Image caption There ought to have heavy snowfalls in some regions of the Highlands Image caption Met Office weather advice for Storm Barbara and Boxing Day's Storm Conor